ULTRA-LOC III SAFETY COVERS
---
CONTACT US FOR YOUR LOOP-LOC COVER
---
ULTRA-LOC III SAFETY COVERS
Exclusively From LOOP-LOC: The ULTRA-LOC III® Solid Safety Cover Is Tougher than Tough, Stronger than Strong!
You no longer have to choose between the light weight of a mesh pool cover and the light-blocking benefits of a solid cover. The revolutionary ULTRA-LOC III gives you the best of both worlds!
ULTRA-LOC III Is Revolutionary. Here's Why:
Blocks 100% of sunlight.
Faster draining! Its unique material "bounces back," so water quickly finds mesh drainage panels!
Exclusive computer-aided design ensures a perfect, custom fit for any shape or size pool.
Backed by a 15-year pro-rated warranty.
Environmentally friendly and 100% recyclable.
33% lighter than typical solid vinyl cover material!
Stays tight and beautiful year after year, in any weather!
Available with or without mesh drainage panels. Cover without drainage panels blocks 100% of sunlight and is sold with an automatic pump, which must be used at all times to meet ASTM safety cover standards.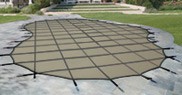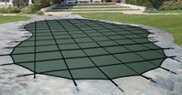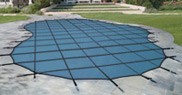 Make Sure Your Family
Is LOOP-LOC Protected
Some dealers attempt to sell other companies' pool covers as LOOP-LOC. To make sure you're getting the real thing:
Ask for LOOP-LOC by name
Make sure LOOP-LOC is specified clearly in your contract or order form before you sign
Examine your cover. If you don't see LOOP-LOC sewn into the webbing on the cover, it's not LOOP-LOC.