Pool Service Department | Pool Parts Department
---
Factory Trained & Authorized Dealer for:
Swimming Pool Service Department and  Pool Repair Service
---
Certified Technicians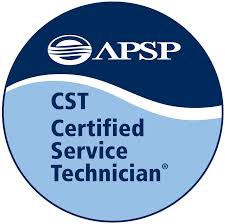 If you have a pool or equipment problem call Dunrite Pools to help.
Put our team of reliable and trustworthy certified technicians to work for you. Do you prefer a more hands on approach? Durnite Pools service technicians are available to come to your home by appointment to evaluate and repair your pool problem.  We have one of the largest warehouse and parts departments on Long Island.  We can help you rebuild your warn out pump. Bring your pump or pool equipment into our store and our qualified service technicians will work with you at our Service Counter.
Pool Cleaners
Did your pool cleaner quit?  Our staff can evaluate and repair many commercially available models including Aquabot and Polaris.
Pool Openings
Call Dunrite Pools to open your pool. They will remove a standard or LOOP-LOC cover, check your equipment, and start the pool pump.
Pool Leaks
Pool leaks may seem overwhelming, but with our help we can perform tests to specifically pinpoint where the leak is coming from. We perform both leak detection and pressure tests.
Pool Closings
As autumn rapidly approaches it leaves our customers feeling bittersweet. Let Dunrite Pools perform your winterization. We make sure the pool is closed properly for the long winter months. Checking and cleaning the equipment is just part of the winterization.
Pool Services Gallery
Let Dunrite Pools come out and give you a FREE estimate to install a LOOP-LOC safety cover. We are an authorized dealer for LOOP-LOC and it's the only cover we trust!  Invest in a LOOP-LOC cover and receive free installation and winterization.