Long Island Salt Water Swimming Pool Dealer | Salt Systems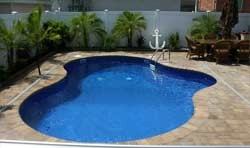 Saltwater swimming pools are quickly becoming more popular than the traditional chlorine pools.  Saltwater pools use dissolved salt instead of chlorine tablets to cleanse and sanitize the pool water.  The salt chlorinator unit uses electrolysis to break down the salt and adds the salt to the water. The pool owner has to maintain the pH levels of the water on a regular basis.  As with a chlorine pool, testing the pool is part of a healthy pool maintenance routine.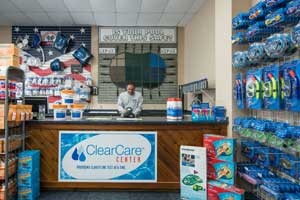 Testing is simple, you can have your water tested for free in our store or purchase a kit to test the water yourself.
A consistent salt-to-water ratio level must be maintained.  There are a few factors which determine the amount of salt you add weekly or monthly to your pool water.  These factors include the amount of rain, the amount of backwashing you do to the pool, as well as the amount of water lost due to splashing or draining of the water.
Are you wondering about putting salt in your pool?
The AutoPilot Sanitizing System requires a salt level of 2500 to 3000 parts per million (ppm) for operation?
Compare that to:
Sea Water – 35,000 parts per million (ppm)
Human Body – 4,000 parts per million (ppm)
Saline Solution for contact lenses – 6,000 parts per million (ppm)
Four parts per million of Chlorine is ten times as corrosive on stainless steel than 4000 parts per million of salt.  AutoPilot Sanitizing Systems operates at only 2500-3000 parts per million (ppm).  Your taste level for salt is approximately 3500 parts per million.  That is 20% higher than the normal AutoPilot operating range!
Advantages of a Salt Water Swimmming Pool
Softer feeling water… Feels silky to your skin
More compatible with eyes, NO MORE RED EYES!
Low Cost
Salt Chlorine Generators by AutoPilot!
For 30 years, AutoPilot has been producing the finest Salt Chlorine Generators (electrolytic chlorine generator systems) for your pool.  We are your most reliable source for chlorine generators – the most sought after form of alternative pool sanitation available in today's marketplace.  By adding a minimum saline level in your pool, the equivalent of one teaspoon per gallon of water, and our salt conversion cell, we can show you the way to trouble free pool maintenance and the most luxurious, softest feeling water imaginable – everyday, the natural way.
Never worry about manually adding chlorine to your pool again. Never deal with irritating dry skin or red eye syndrome.  Never buy, transport or store chlorine again.   AutoPilot guarantees perfect pool water with our chlorine generator.

AutoPilot / Salt Systems / Copilot Ozone / Dig220
Autopilot 75003 Digital Owners Manual
Autopilot Digital Nano Owners manual
Informative videos on Salt Systems
Video  An AquaCal AutoPilot Technical Support Professional explains how to properly use the self diagnostic system on the AutoPilot Digital, AutoPilot Digital Nano and AutoPilot Soft Touch Salt Chlorine Generators.
Video  An AquaCal AutoPilot Technical Support Professional explains the Purifier OFF / Check Flow Warning on an AutoPilot Salt Chlorine Generator.
Video  An AquaCal AutoPilot Technical Support Professional explains the proper method for cleaning your AutoPilot Super Cell.