Pool Installation
Dunrite Pools, Long Islands Leading Pool Installers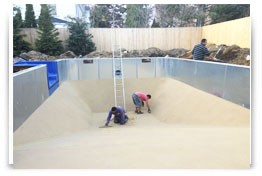 A little inconvenience, a lot of rewards!!! The fact is, your backyard will be a construction site. When planned correctly by a professional Dunrite Pool Specialist, the inconvenience is manageable and short-lived.
The process begins by planning out the location of your pool.Then an excavation crew will strategically dig the area where your new pool will be. Then the pool's bottom will be formed so it will be ready for the pool liner. Once the liner is in place and all of the final finish processes are completed, all that remains is a lifetime of fun and relaxation. You'll be enjoying your new pool before you know it!
Place your swimming pool construction in our trusted hands.  Dunrite Pools professional and experienced team can offer you more than any other builder. We provide innovative design visions for your backyard pool and will integrate it seamlessly with the surrounding landscape. Dunrite Pools also offers you exceptional value and clear communication to ensure your swimming pool turns out perfectly.
Our customer service is oriented around a single point of contact per customer so that you don't have to fumble through multiple contractors. We will coordinate the effort for you using our in-house staff of experienced swimming pool builders, and then add any additional feature that you'd like. We will save you time and money.
We are equipped to help design and construct simple pool projects or more complex designs. Let our team assist you from start to finish and beyond.
Pool Construction Gallery
Long Island Premiere Pool Installers