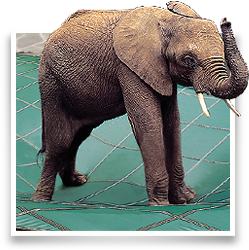 Protect Your Family with
LOOP-LOC Safety Pool Covers
Keep your backyard pool beautiful – and safe – for years of relaxation and family fun with quality LOOP-LOC products. LOOP- LOC is manufactured on Long Island, by the company that's  been the leader in safety pool covers for decades. Do you need a replacement  LOOP-LOC Safety Cover ?  Contact us here.
---
CONTACT US FOR YOUR LOOP-LOC COVER
---
---
Here are a few reasons why you may want to purchase a LOOP-LOC cover.
Mesh construction lets rain & melting snow drain right through
LOOP-LOC blends beautifully into any backyard, with your choice of standard green or optional designer colors
Manufactured of ultra-strong, super dense mesh that blocks virtually all sunlight.
LOOP-LOC is so lightweight, putting it on and taking it off your pool is a snap
So unique, it's patented. Only LOOP-LOC comes with the CABLE-LOC™
Unique brass anchors recess flush with the deck when the cover is removed
Exceeds ASTM standards for Safety Swimming Pools Covers
So durable its backed by a 15 year pro-rated warranty and so safe, it may reduce your liability insurance
LOOP-LOC Covers
LOOP-LOC Colors Solid & Mesh
What is the difference between a regular pool cover and a LOOP-LOC safety cover?
A typical solid vinyl pool cover is similar to a heavy duty tarp which covers your pool opening and is secured by water bags.  The water bags are placed on top of the cover and follow along the coping of the pool.  A vinyl cover does require a certain amount of maintenance.  When you remove the cover it must be cleaned, maintained and stored.  A solid vinyl cover retards algae growth which usually means a crystal clear pool next spring.
All safety covers must conform to the Standard Performance Specification set by the American Society for Testing and Materials (ASTM). According to the ASTM, a safety cover must be able to support a certain amount of weight, not permitting gaps that a child or pet could squeeze through, and remove standing water. LOOP-LOC safety pool covers far exceed minimum ASTM standards.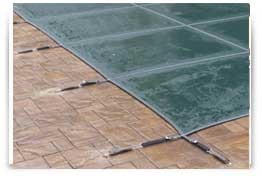 LOOP-LOC is built from extremely strong material and secured tightly to the deck by heavy-duty springs and brass anchors, a LOOP-LOC safety cover puts a "lock" on a pool that will prevent children and pets from gaining access to the water.
What is the difference between a LOOP-LOC mesh cover and a LOOP-LOC solid cover?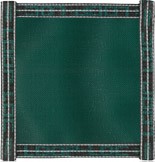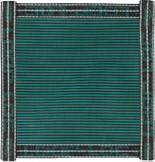 Both the original LOOP-LOC super dense mesh safety swimming pool cover and our ULTRA-LOC solid safety swimming pool cover provide superior protection for your family. Mesh covers do have one safety advantage: they do not permit water to collect. In order to meet safety cover performance standards, solid covers must provide for the elimination of standing water.
LOOP-LOC's ULTRA-LOC® solid safety cover is available in two versions: one with "invisible" mesh panels that allow water to drain through, and an all-solid version that is always sold with an automatic cover pump. Our ULTRA-LOC material is proprietary to LOOP-LOC and made with 100% polypropylene. The pump must be used at all times in order to maintain the safety of the cover. Ultimately, though, the choice between a mesh or solid cover is up to the preference of the user.
Replacement  LOOP-LOC Safety Cover Information